CorkSport 13" Big Brake Kit - Mazda 3 MPS MY07-13 / Mazda 3 MY04-13
The Stage 2 CorkSport 13" Big Brake Kit for Mazda 3 MPS provides a drastic improvement to braking by offering improvements to each component in the system.
Larger rotors, 4-piston calipers, stainless steel brake lines, upgraded pads, and everything you need to install on your 3 MPS is included in this kit. If the CorkSport Big Brake Caliper Kit was not enough for you and your 3 MPS, look no further than the CorkSport 13" BBK.
The CorkSport Advantage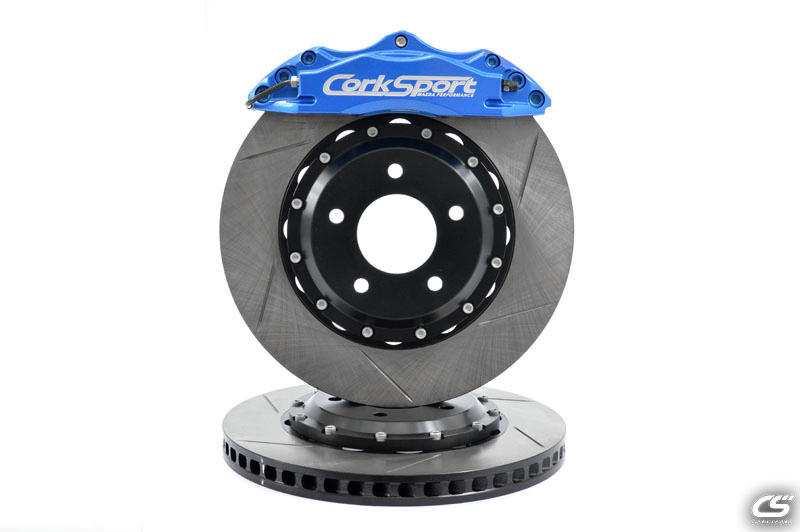 Performance Advantage
Everything in this kit was carefully chosen to bring the best braking performance possible to your Mazda 3 MPS. Brake performance is defined by heat, weight, and force. Each component was chosen specifically for its effect on one of these characteristics to bring together a kit that will bring your 3 MPS to a stop just as fast as it accelerates. After all, chasing a ton of power gets dangerous really quick when you can't slow down!
---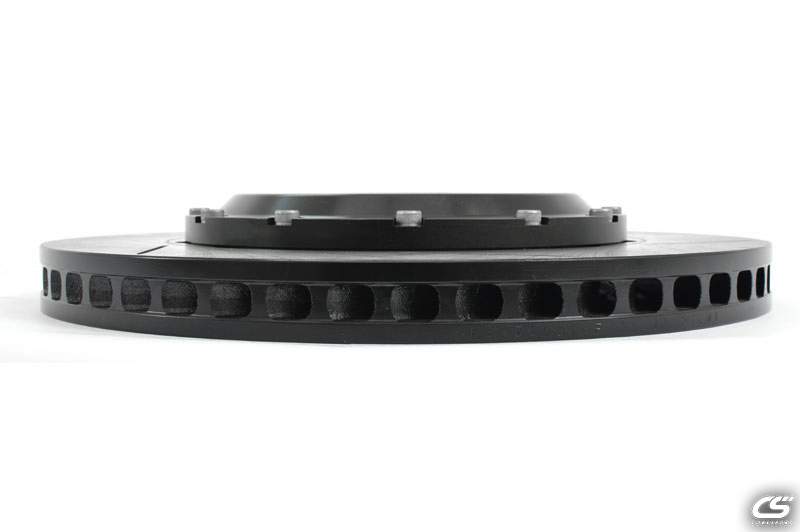 Upgraded Rotors
Performance two-piece 13" (330mm) brake rotors are included with the kit. They are 10mm larger in diameter to produce a greater braking torque at an equivalent braking force (the same way a longer wrench makes it easier to loosen a bolt). More consistent brake force is achieved through the slots in the rotors. They sweep away dust, gases, and other debris that may otherwise affect braking performance. The larger diameter of the rotors combined with rotor thickness upgraded to 28mm means more mass to reject heat into. This heat is then dissipated easier through the specially designed vanes in the rotors. The vanes are the "fins" that connect the inside and outside of the rotor. Making them curved allows for better airflow through the rotor and thus better cooling. Lastly, the rotors are two-piece with an aluminum rotor hat for weight saving and improved heat dissipation.
---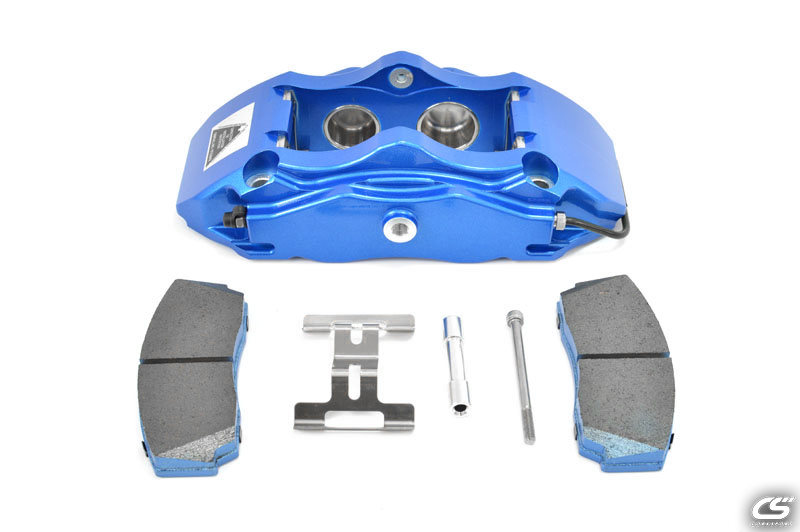 Four-Piston Calipers
The aluminium four-piston calipers included with this kit are a further upgrade from the CorkSport Big Brake Caliper Kit. The four pistons are individually smaller than the single OE piston; however, the total surface area is increased, providing more braking force from the same amount of braking pressure. By moving to two pistons on either side of the rotor, pad size is maximized and braking force is evenly distributed on the pad on either side of the rotor. The four pistons are staggered in size to ensure even pad wear. Each piston is also made of stainless steel instead of aluminium or even regular steel as stainless steel has lower conductive heat transfer. This means less heat transferred to your brake fluid, reducing the chance of boiling it. Finally, the calipers are powder coated blue, red, or black to keep them looking good and matching your personal Mazda 3 MPS style.
---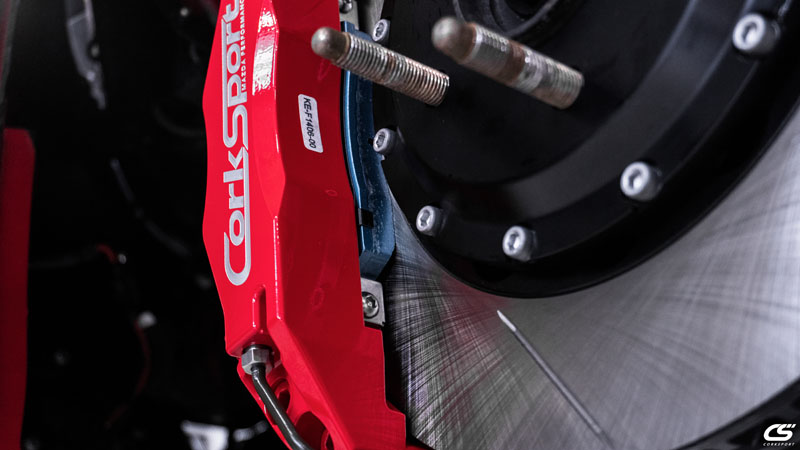 Performance Brake Pads
Brake pads included with the CorkSport 13" BBK is a larger and more aggressive compound than OEM pads and even the pads included in the Big Brake Caliper Kit. They bridge the gap between a street pad and a full trackpad to provide good performance on the track without a huge amount of dust and noise when driven on the street. As an added bonus, when you eventually need to replace the pads, you have a myriad of options as they are common style brake pads.
---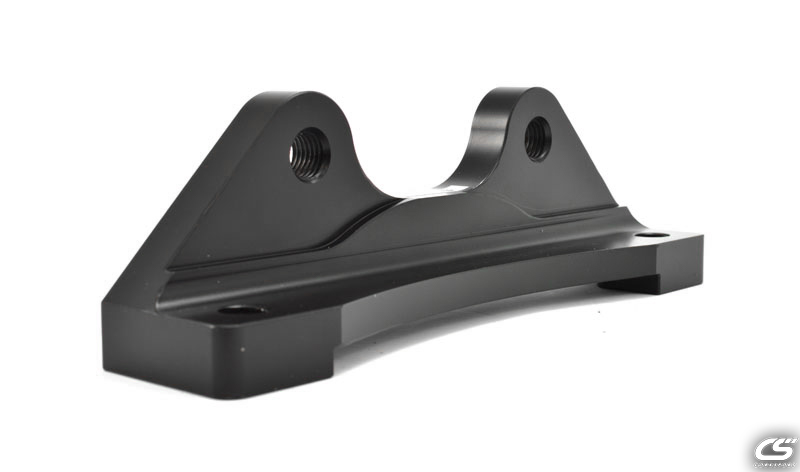 Hardware, Brackets, and Lines
Everything needed to install the CorkSport 13" BBK onto your 3 MPS is included in the kit. High strength steel caliper brackets position the new calipers in the correct location while braided stainless steel brake lines ensure you have no issues with a soft pedal. The kit is tied together with grade 12.9 corrosion-resistant hardware to ensure everything stays securely mounted.
---
Additional Features
Vehicle Fitment:2007-2013 Mazda 3 MPS, 2004-2013 Mazda3
Designed in America: Designed in Vancouver, Washington, in the Pacific Northwest.
CorkSport Service & Support: 2-year limited warranty, full-colour installation instructions, and all necessary components
More Information

| | |
| --- | --- |
| Make | Mazda |
| Brand | Corksport |